The Santa Barbara Zoo is one of the most popular attractions in the city of Santa Barbara. Both residents and tourists enjoy visiting the Santa Barbara Zoo and the hundreds of different animals that can be found here. The Santa Barbara Zoo is the ideal place for children and adults to enjoy an exciting day of learning and fun. There are so many different exhibits at the Santa Barbara Zoo, which amounts to hours of fun and learning for people of all ages. The zoo is located on 500 Niño's Drive and is open seven days a week, from 10:00AM until 5:00PM. On holidays, the zoo may open up later or close early but it will ultimately depend on the particular holiday. The tickets for this zoo are quite affordable, only $14 for adults and $10 for children between the ages of 2 and 12 as well as individuals older than 65 years of age. Children who are under the age of 2 will be able to get into the zoo for free.
Santa Barbara is a beautiful city, located only a few hours away from Los Angeles, and is primarily known for being one of many places to travel to if you have a love for wine. Even if you are currently in the Los Angeles area, you can take a visit to Santa Barbara with the many Santa Barbara Wine Tasting Tours, which start off in Los Angeles and take you on the two hour journey to one of the sacred spots in California, a comfortable and relaxing spot that is unlike any other area in the United States. Santa Barbara is definitely the ideal spot for a wine tour, as is the state of California. While the beaches are absolutely stunning in the city, the wine area is up away from the usual hype, in a cozy little spot with some amazing hills and valleys.
Categories: All Blog Posts, Fun Things To Do Tags: santa barbara wine, santa barbara wine tasting, santa barbara wine tasting tours, santa barbara wine tasting tours from los angeles, santa barbara wine tour, santa barbara wine tours, wine tasting in santa barbara, wine tasting santa barbara, wine tasting tours santa barbara, wine tours santa barbara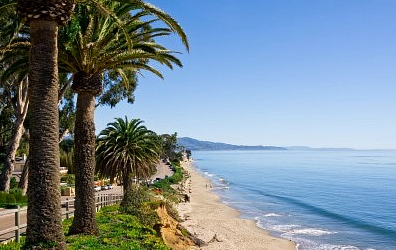 Santa Barbara, California is often referred to as, "The American Riviera." The city is compared this was because of all the shops, boutiques and great restaurants mixed in with a diverse worldly culture of friendly people. Santa Barbara has a very European feel with the lush mountain and valley scenery, the busy walkways, the gorgeous braches, and the architecture of the buildings. In addition, it is one of the cities for visitors to get around in and is only twenty square miles total. However small, the friendly city more than makes up for it with all the things to do here, not to mention the stunning hotels which treat you like visiting dignitaries.
The city of Santa Barbara is known for being such a beautiful place to visit, with everything that it has to offer, from museum and zoos to beaches and jet skiing opportunities. If you are thinking about traveling to this vibrant city, you probably want to know what the weather in Santa Barbara is like, especially if your trip will be taking place during a certain month and you want to know how nice the weather will be during that time frame. Santa Barbara is known for having a climate that has been described as being very Mediterranean-like. The city of Santa Barbara is located right near the ocean, so it is fairly normal for the city to experience a regular breeze, coming straight from the shore.
If you are looking for a good place to visit in Santa Barbara, a place that will be educational and fun at the same time, the Santa Barbara Museum of Art is an ideal attraction to visit. The Museum of Art in Santa Barbara, California is a great place for both children and adults to check out and enjoy. It is a fun yet educational experience, in which people can learn about the art and history of many different cultures. This museum is home to a large number of different exhibits, each of which contains pieces of art from all sorts of artists from areas around the world.
If you are planning to visit the beautiful city of Santa Barbara, you definitely want to pick the right place to spend the many nights that you will be visiting the city. Because Santa Barbara is such a popular tourist destination, there are plenty of different hotels in the area. However, there are some hotels that are even better than the best, and these are known as the Santa Barbara Luxury Hotels, providing you with everything you could imagine and a whole lot more, so that you have the experience of a lifetime during your visit to Santa Barbara.
If you are going to the city of Santa Barbara for a vacation but actually prefer to be in a quiet and cozy place to stay, away from all of the traffic and large crowds, a bed and breakfast would be the ideal choice. A bed and breakfast will offer you a comfortable and relaxing place to stay, a place that will typically remind you much of home. You can spend the night and wakeup to a deliciously prepared breakfast, much like some old school home cooking. If you prefer the cozy environment over the mainstream luxury hotels, there are a number of different bed and breakfasts available in the city of Santa Barbara.
The Old Mission Santa Barbara Museum is a popular tourist attraction in the city of Santa Barbara. If you will be headed to the city, this is one of the attractions that you will want to check out. The Mission of Santa Barbara was built and began in the late 1700's. And, while it has been over 200 years since it was first established, the Mission is still considered to be one of the most historical landmarks in all of the city of Santa Barbara. Because of this, people come from around the world to learn more about the Mission and its history.
One of the most exciting and adventurous things that you can do in Santa Barbara is give jet skiing a try. If you are an ambitious person seeking a thrilling experience, this is something that will be plenty of fun for you and it is also a common water activity in the Santa Barbara area. There are certain spots in Santa Barbara that offer Jet Ski rentals, along with kayaks and other types of water recreation equipment, all of which can be used to provide hours of entertainment and most importantly, excitement for people of all ages.
The Canary Hotel in Santa Barbara is, by far, one of the best hotels in the city. The Canary Hotel is known for being a luxurious place to spend the night, with spacious rooms and comfortable beds, as well as a comforting atmosphere for all to enjoy. There are plenty of accommodations available at the Canary Hotel, so you will surely have your choice of which room you want to spend a few nights in. You will be able to choose from assorted Deluxe Rooms, as well as Premier Guest Rooms, Superior Guest Rooms, Junior Suites, and even the Canary Presidential Suit for the utmost luxury possible.