Things to do in Santa Barbara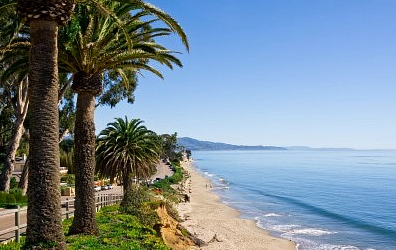 Santa Barbara, California is often referred to as, "The American Riviera." The city is compared this was because of all the shops, boutiques and great restaurants mixed in with a diverse worldly culture of friendly people. Santa Barbara has a very European feel with the lush mountain and valley scenery, the busy walkways, the gorgeous braches, and the architecture of the buildings. In addition, it is one of the cities for visitors to get around in and is only twenty square miles total. However small, the friendly city more than makes up for it with all the things to do here, not to mention the stunning hotels which treat you like visiting dignitaries.
Santa Barbara is perfect for adults or families. There is something for everyone here. If you have refined tastes, try one of the art galleries and a wine tasting event. If you have children, you all will enjoy a tour through the Santa Barbara zoo or the Santa Barbara Fair and Expo. If you are the outdoorsy type, you will find endless entertainment of one of the beached, on horse ride adventures, or learning to scuba dive.
Santa Barbara for Adults
If you are a visitor to Santa Barbara who is looking to have adult fun, there are many options. The city's art, wine, and culture are fantastic. They rival New York's Broadway and Italy's wine country any day. Although you will have to arrange ahead of time the things you want to see and do because of their popularity, once you are there it will be all worth it. Once you have finished with your wine tour or your gallery tours, it will be time to unwind in one of Santa Barbara's luxurious spas. You can partake in any number of relaxing and healing treatments, such as deep tissue massage, aromatherapy, facials, and more. You will never want to leave the city.
Santa Barbara for Families
Aside from the zoo and the fair, Santa Barbara has beaches that designated as family-friendly. There your kids can have a blast in the water or in the sand with other children their age. You can relax or join in their fun without the worrying about adult behavior, such as partying and drinking with scantily clad men and women. The city has many amusing shops offering silly souvenirs, as well as fun restaurants for kids as well.
Santa Barbara is a great vacation spot no matter your age or your interests. The city has something to please everyone. You will feel like you travel outside the U.S. without actually having to deal with that hassle.